The mission of the Madina Village School is to provide Christian Education to the children of the Madina area and to improve their quality of life through outreach.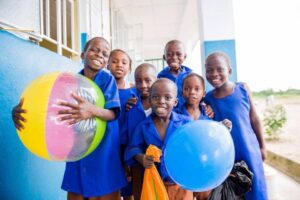 Madina Village School opened in September 2013.   The school day includes Morning Assembly, all core subjects plus a nutritious hot meal.
FREQUENTLY ASKED QUESTIONS
Yes. Madina Village School Inc. is a 501(c)(3) organization, with an IRS ruling year of 2014, and donations are tax-deductible. Charity Organization Categories:  Education and Health Care.  
Our mission statement is to provide Christian education to the children of the Madina area and to improve their quality of life through outreach.
Madina Village School was the fulfillment of the lifelong dream of Francis Mustapha to build a school in his home village in rural Sierra Leone.  He began building in January 2011 and the new school opened in September 2013.  More students, teachers and buildings have been added.
Madina Village School is a Primary School. The campus includes:
sixteen cleared acres of land
two large classroom buildings (11 classrooms plus offices)
(cement block construction with metal roofs, glass windows and steel doors)
two open-air preschool buildings (one is off-campus)
open-air assembly hall
outdoor kitchen
powerhouse for solar and generator
shipping container storage building
lumber storage building
hand-dug well
soccer field
People: At Madina Village School:
One Deputy Executive Director (Financial Administrator)
13 teachers
6 assistant teachers
One secretary
One full-time nurse
3 nannies
3 cooks
3 groundskeepers
3 security guards
405 students in Preschool through Class Six
People in the U.S.:
15 Directors of the Board – all volunteers
More than four hundred students are getting a high-quality primary education at Madina Village School and their families are benefiting from the malaria prevention program which provides treated mosquito nets for each home. We are also visited each year by a mission team of doctors who see patients from the community, up to 100 in one day.
The Madina Village School community health center is still under construction. (2021). It is a cross-shaped cement block building with a metal roof.  When it is finished and operational it will provide facilities for birthing, health and wellness care of infants, surgeries, treatment of tropical diseases, emergency care, a pharmacy and educational programs for students of MVS and community groups.  It will provide for the families of the 400 students and 32 employees and a presently unknown number of other community members.  
There are many short term and long term goals for MVS and its clinic.
In the short term our goal is to provide a strong basic primary education to the children of the Madina area and to improve the health of their families through the clinic. That is stated in our Mission Statement (see above).
The short term educational goals specifically include:
 To operate a well-managed, well-maintained school with high quality teachers who are respected, valued and paid on time.
To produce students who can all read, comprehend and write proficiently in English and also in Mende, their first language.  Reading and thinking will be stressed in all subjects.
To provide religious teaching that will respect all religions and allow students and teachers to choose to become Christians or not, without coercion or rejection.
The short term medical goals specifically include:
 a system of testing, treatment and prevention of malaria.
 Teaching students the knowledge of hygiene and nutrition to eliminate all malnutrition and worm infestation, and
prenatal and postnatal education to eliminate the high incidence of maternal and infant deaths.
The long term goals for the school and health center are even more important:
 To create a transforming spirit of hopefulness, Godly lovingkindness, and empowering energy in the community around Madina, to counteract the years of hopelessness and helplessness caused by war, corruption and poverty.  This has already begun.
To build a mindset of integrity, value and beauty into the children of the Madina area by establishing a place of care, safety and creativity for them to belong to and come back to as they spread out through Sierra Leone and beyond.
To counteract the distrust of modern health care by including the children's education within the community health center.  This goal is not only to improve the health of the children and families, but to inspire the children to believe and choose to become nurses, doctors, researchers, scientists, builders and engineers, ultimately adding great value to the country.
To add one grade at a time through JSS and Secondary School.
To build Madina Village School's reputation of high performance on National Exams, such that the word "village" loses its negative connotation.
To instill a positive connection to the community by all students being involved in service projects, newspaper writing projects, and school programs. 
To reach out to other schools and the S.L. system as a whole with activities that can be replicated successfully in a wide variety of conditions.  i.e.  D.E.A.R., writing, drama
To collect and publish writings by MVS students and teachers, creating the modernization of literacy in Mende, to stop the gradual death of the language.
To build a library/publishing center to provide and produce literacy materials in both English and Mende.
To establish students with such strong integrity that as adults spreading throughout Sierra Leone they will substantially impact politics, governance, business, health care and education and transform Sierra Leone.
Madina Village School and its Community Health Center are located on Madina village land next to Mosenesie Junction in Lower Banta Chiefdom, Moyamba District, Sierra Leone.  Sierra Leone is on the far western edge of Africa, just north of the equator, between the countries of Guinea and Liberia.  Madina is about fifteen miles inland from the Atlantic Ocean.
The initial capital for the beginning construction of the school was Francis Mustapha's retirement annuity, assisted by contributions from his church in Indiana.  Many other people have become donors and sponsors in the years since.  Help is also given by organizations such as Rotary and Kiwanis and small grants by family foundations.  The Mustaphas regularly give presentations at churches, schools, and organizations to raise funds.
There were 200+ donors in 2021, including 170 sponsors of children.
The annual budget is currently set at $193,000.  
There is a full slate of administrators and teachers at MVS. The Executive Director spends several months there at least twice a year. His Deputy Executive Director lives there and is in charge of the finances and general oversight. The Headteacher and Deputy Headteacher see to the smooth running of the school along with teaching their own classes.
The community health center is still under construction but will be administered by a CHO (community health officer) and staffed with a nurse practitioner and nurses. A fulltime doctor is a dream for the future.
Madina Village School has been approved for assistance from the Government of Sierra Leone, which has agreed to provide salaries for ten teachers and to provide basic textbooks. A few textbooks have been delivered, but no other subsidies have been received.
School gardens provide some of the food items used in the feeding program. Parents contribute small fees and products for the feeding program, such as wood, palm oil and chickens, but 90% or more are not able to provide the cost of education for their children. Sponsorships of all children and teachers will provide the bulk of operational expenses.
When the health center is completed, fees will be charged to outsiders who receive services, excepting the students, staff and their immediate families.  These are not likely to completely support the expenses of the health center.
 Finances.  The biggest challenge of Madina Village School is financial.  Starting with his own retirement funds, Francis began to build, which inspired others to help him.  It is a fulltime job to continue to solicit funds for the continual operation of the school, and for the building of the clinic.
Corruption.  Another huge challenge to anyone who attempts to build anything in Sierra Leone is the culture of corruption.  At every level, when legal documents or licenses or approvals are required, there are far too many obstacles, and often there are deceptive people who stall the progress unless given a "brown envelope".  Francis has insisted on the integrity of refusing to bribe, and this has slowed down the receiving of approvals, etc.
Ebola.  During the Ebola epidemic of 2014, all schools in S.L. were closed for seven months.  MVS continued to pay the nurse and teachers, and their community wide information project helped Madina area to remain Ebola free.  This long break in schooling did set the students back and much had to be made up when the crisis was passed.
Malaria.  In the first two years, two little girls died of malaria and many other students were absent or got sick at school.  When tested, 89 of our students were found to have chronic malaria in their systems.  A bed net program to protect students from the mosquitoes carrying malaria was put in place the third year and since then, the situation has greatly improved.  Malaria is still a constant problem in the area, though, and continuing to provide or replace nets and mattresses is ongoing.
Sponsorships.  The most effective way to connect donors with the children and teachers they are helping is the MVS sponsorship program.  As of 2022 there are 185 sponsored children out of 440 children in the school.  Continual communication with the sponsors is effective, but difficult, since there is no mail service in Sierra Leone.  It takes time to keep it organized, and we are also looking for more sponsors all the time.
Each Director serves voluntarily, meets quarterly, and supports the mission of Madina Village School, Inc.
Doug Ahlfeld
Doug Ahlfeld is an engineer living in Columbia City, Indiana. 
Renee Albright
Renee teaches at South Side High School in Fort Wayne, Indiana.  She went to Madina Village School in 2016 to help with teacher training.
Sandy Bennett
Sandy Bennett is a semi-retired teacher from Avon, Indiana, who still does substitute teaching.  She traveled to Sierra Leone in 2018 and helped lead teacher training at Madina Village School.
Cathy DeWitt
Cathy DeWitt is a retired nurse living in Fort Wayne, Indiana. 
John Barnett
John Barnet is an accountant for St. Mary's Catholic Church, Fort Wayne, and substitutes in Fort Wayne Community Schools.  He was born in Sierra Leone.
Tim Dilley
Tim Dilley is Pastor of Good Shepherd United Methodist Church, and an honorary member of the Board.
Phil Elam
Phil Elam, Board Vice-President, is a retired engineer from Fort Wayne, Indiana.  He traveled to Sierra Leone in 2017 and helped install solar power at MVS.
Steve Ellinwood
Steve Ellinwood, Board President, is a dentist in Fort Wayne, Indiana.  He is active in mission trips and has been to Sierra Leone in years past.
Dustin McKibben
Dustin McKibben is a professional photographer in Fort Wayne, Indiana.  He has been to Sierra Leone twice, visiting MVS and producing photos and videos.
Cindy Burkhart
Cindy Burkhart is retired and is from Fort Wayne, Indiana. 
Bobbie Mustapha
Bobbie Mustapha, Board Secretary, is a retired teacher specializing in Reading and Early Childhood Education.  She lives with Francis Mustapha in Sierra Leone for several months of each year.  She leads teacher training and school development at MVS and organizes the sponsorship program.
Francis Mustapha
Founder and Executive Director of Madina Village School, is a retired Biology Teacher, living in Fort Wayne, Indiana and Madina, Sierra Leone.  He is persistently bringing solutions to the needs discovered along the way.
Susan Thomas
Susan teaches geography at South Side High School in Fort Wayne.  She went to Madina Village School in 2016 to help with teacher training.
Jim Roush
Jim Roush is an accountant, living in Fort Wayne, Indiana.