Sunday Snapshot #5
Mind, Body, Spirit
Guest Blogger Joanne Cearbaugh
Madina Village School nourishes the minds of 440 preK-Class Six students who attend every day. They are getting a fantastic education!! It's been my delight to partner in that instruction with interactive English lessons the last few weeks. I've come to realize, while participating in school activities, that the bodies and spirits of the students are also nourished.
The students gather every morning for songs, scripture reading, and prayer. It is often student-led! In addition, there is daily religious instruction built into the schedule at all grade levels, memorization of scripture and prayer before meals.
The physical needs of Madina students are addressed in several ways. Three dedicated cooks prepare rice over an open fire, along with potato leaf, okra or cassava leaf, and always have a bit of fish, chicken or beans for protein for each child every day. Amazing !!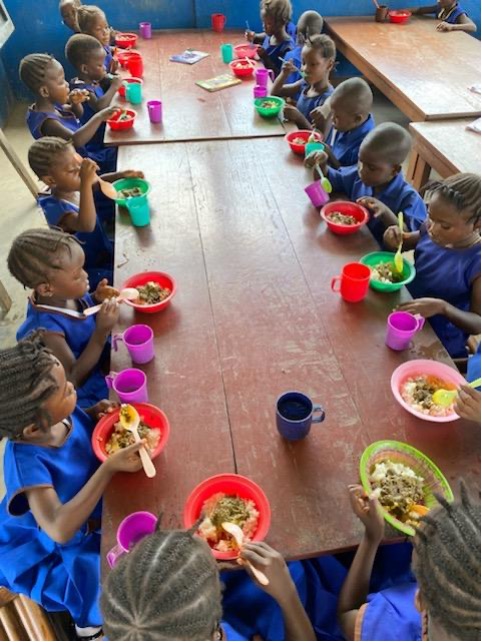 Malaria, the most common ailment in the area, is actively fought. If needed, students are given a mattress that is made locally from rice bags and stuffed with grass. Every child receives a bed net to sleep under to prevent mosquito bites. Since implementing this program four years ago, there have been no malaria deaths. Distribution day is a day of celebration.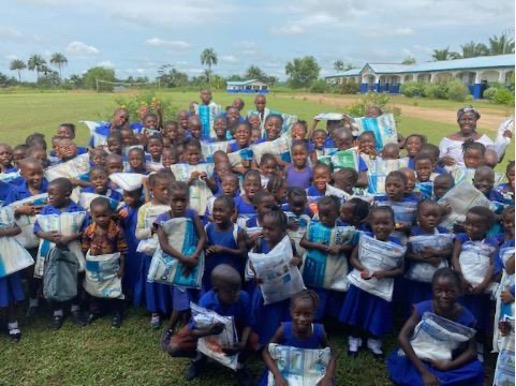 Most life-changing of all, a health center is under construction to search the needs of students, their families and the whole community. MVS is educating the next generation as well as providing a spiritual foundation and improving the health of each child. I am grateful to be a small part of this endeavor and for the privilege of seeing everything first hand,…mind, body and spirit.